How accurate are your sales forecasts? Do you have an established methodology that allows your team to estimate the exact amount of revenue every quarter?
Knowing these crucial figures is extremely important for businesses and salespeople. They can show you whether you have any revenue gaps that you need to fill or what to take into consideration when projecting the budget for the next quarter.
What if we told you that you could easily predict your future revenue without complicated formulas and equations?
Let's dive in!
Why Is Forecasting Important?
Accurate sales forecasts can shed some light on potential business gaps and allow you to devise leeways just in time to avoid bad consequences.
Additionally, with the help of reliable data, you have a chance to intervene when your help is needed the most, conduct one-to-ones, and eliminate the problem together with your team members.
What's more, revenue forecasts play a critical role in setting goals for a new quarter, preparing for a new investment round, planning the budget and resources, and making informed decisions.
One thing that makes sales forecasts indispensable is their ability to boost motivation in sales teams. When you update the sales forecasts regularly and make this information accessible for all your team members, it gives them additional incentive to bridge the gap between what's forecasted and where they are now.
Sales forecast accuracy is especially valuable if your business is in an early stage and you need to attract investors. With the help of reliable numbers and figures, you will be able to adjust your strategy to meet the target.
However, even if there's a small inaccuracy margin in your forecasts, it doesn't mean they don't bring any value.
The Most Common Sales Forecasting Strategies
Now let's look at the most common sales forecasting strategies that many companies use to predict their revenue.
Opportunity Stage Forecasting
On the lower end of forecast accuracy is the opportunity stage forecasting. With the help of this percentage breakdown, sales reps and sales managers can estimate the likelihood of a deal closing by the end of the sales cycle.
Meeting booked: 5%
Qualified: 10%
Product Demo: 25%
Proposal: 50%
Final Call: 80%
Deal Closed: 100%
Let's say you want to make predictions about a deal in the proposal stage. According to this model, a $4,000 deal is 50% likely to close. This means you can add $2,000 to your forecast.
Historical Forecasting Method
One of the least reliable forecasting options is a historical forecasting methodology. This methodology allows sales reps to make quick predictions about how much they'll sell this quarter (or any other time period).
This method entails that you take a similar time frame in the past and assume that the numbers will be similar or greater this time around.
There are many things that are wrong with this type of forecasting, including the fact that it's rarely accurate and doesn't account for various volatile factors.
This method is only recommended for use as a benchmark rather than a revenue forecast.
Sales Cycle Forecasting
This sales forecasting method involves calculation based on the length of the sales cycle for each deal. The estimations are usually quite rough, but you can expect to get a solid forecast if you do it the smart way.
Let's say the average length of your sales cycle is 3 months. This means that starting from the prospecting stage, you need 90 days on average to close a deal.
So if a salesperson has so far been talking to a prospect for 45 days, you can put 50% of the deal amount in your forecast.
Here you need to understand the source of your leads because if it's a referral or a marketing-generated lead, the whole sales cycle usually shrinks to around a month.
Sales Pipeline Category Forecasting
This method is similar to opportunity stage forecasting but only accounts for two pipeline categories:
Best case (50%)
Commit (90%)
Your deal is in the best-case stage when you've made the proposal, your client is happy with everything, and the economic buyer is involved, but you haven't gotten the verbal commitment yet.
A deal moves to the commit stage when it is ready to close, every buyer role is involved, and you got the verbal commit, but it needs some final touches.
1. So let's calculate.
Let's say that your target for this quarter is $950,000
Your current revenue is $600,000
This leaves you with another $350,000 to go.
Now you need to ask your AEs to list all the deals they have in stages "best case" and "commit."
2. Let's imagine the subjective estimations of your sales team are as follows:
Best case: $200k
Commit: $400k
3. 100% accurate sales forecast:
Best case (50%): $100k
Commit (90%): $360k


Total: $460k, which fully covers your target.
4. A more realistic way to calculate the result would be to use 95% forecast accuracy. This way, you can account for some unpredictable circumstances.
95% accurate sales forecast = $437k-$480k
You can use this calculation as your reliable sales forecasting template.
Internal Factors Affecting Forecast Accuracy
Inaccurate sales forecasts happen more often than you think. And there are many contributing factors that you need to take into consideration. Let's explore them.
Hires and Fires
In sales, like in many other professions, employee turnover can be quite high sometimes. Even though in many European countries the notice period is between 2-3 months, losing good salespeople can decrease the forecast accuracy as much as hiring newbies who will need some time to learn and adjust to a new product and market. That's the internal factor you should always account for.
CRM is not up-to-date
One thing that affects your forecasts quite significantly is the accuracy of data in your CRM. Salespeople often don't have time to fill out every possible field in the CRM, which results in a lot of data being unaccounted for. That's why it's imperative for you as a sales leader to make sure your team is meticulous about filling in their CRM.
What could really help you with that are the CRM automation tools, which we will discuss later.
New market
When you expand to a new market, it takes quite a bit of time for your sales team to adjust to new demands and figure out all the legal aspects. That's why the forecasted amount of future sales revenue always drops in these conditions. So you should always take it into consideration.
External Factors Affecting Forecast Accuracy
Changes in roles
You may have already found your champion and economic buyer in the company you're trying to sell to, but suddenly the person gets promoted (or demoted), and it affects their sphere of responsibility. This means you will have to deal with a completely different person to close the deal successfully. Here, everything could go either smooth or south.
Economic conditions
Let's say you've been talking to the buyer for a couple of months already, but then unexpected economic circumstances kick in, and the buyer cannot afford you anymore. There's not much you can do in this case.
Legislative changes
Laws and regulations change constantly, and they can affect your business significantly. If you produce a product that requires access to sensitive information, new GDPR legislation can make it harder for you to sell it.
Slow periods and seasonality
In summer, you can expect your sales to decrease, but this factor is sometimes completely unpredictable. For example, during the pandemic, summer sales increased compared to previous years, but they are expected to drop again as we move to a post-pandemic period.
Deal's volatility
Sometimes sales deals move from one stage to another progressively, and sometimes regressively. Your deal can move from "best case" to "commit" and vice versa. Additionally, the closing date can be moved multiple times throughout the sales cycle. This makes sales revenue increasingly unpredictable.
How To Maximize Sales Forecasting Reliability Using Sales Automation
Sales automation tools can help you beat the odds, and build more reliable, accurate sales revenue forecasts easily.
One of the most significant factors that affect forecast accuracy is the availability of data in the CRM. And we all know that it can be quite hard to keep all your deal records clean and neat. That's why CRM automation tools can help you significantly.
With the help of sophisticated AI technologies, Unique records, transcribes, and analyses your every call and transfers all the conversational data into your CRM.
Additionally, it makes use of this data to create a dashboard with all the important metrics that can help you with revenue forecasting. It will show you how likely it is for your deal to close by the due date.
This tool is indispensable when making accurate revenue predictions and budget planning.
Additionally, the state-of-the-art agenda will help your team stay consistent on a call and follow the lead qualification process more efficiently. You can incorporate the MEDDIC methodology into your agenda to always know that all your salespeople do a good job defining different buyer roles and qualifying the lead.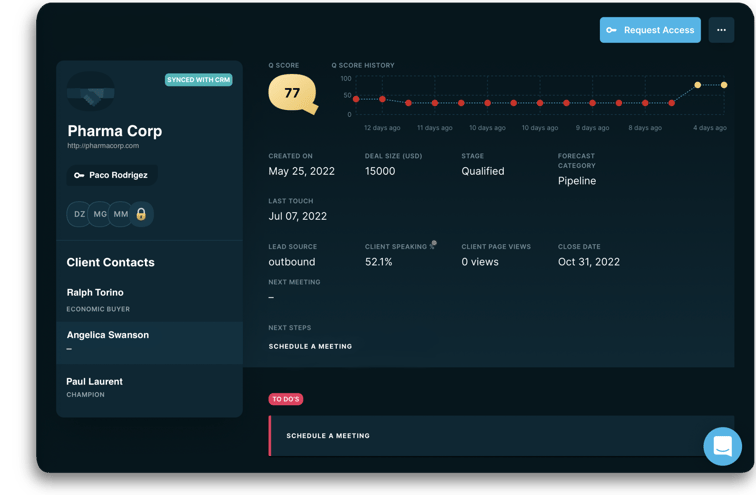 What Forecasting Metrics Sales Leaders Should Pay Attention to?
Last touch: this metric will help you notice any deals that are stalled for some reason so that you can intervene on time and help the deal close by the due date.
Progress fluctuation: a simple chart with the percentage of fluctuation (positive and negative) can help you estimate the deal's progress. If the number goes up, it means that the deal moves forward and has a good chance of closing. If the number decreases, it means this deal requires more attention.
Buyer involvement: several critical buyer roles need to be defined and involved in the deal for it to close successfully. If you know that the Champion and the Economic Buyer are involved and participate in the deal actively, there are more chances this deal will succeed.
Client speaking time: the more the buyer speaks on a call, the more information they give you. This means that the more you involve the buyer in the conversation, and the more questions you ask, the bigger the chance that you qualify the lead accurately.
Customer views: during the entire negotiation process with your buyer, you can share the Unique recordings with them. If the client is interested in closing the deal, they will most likely rewatch these recordings and be as active in the Deal Room as the seller.
Close date: a deal should always have a clear close date as it directly affects forecast accuracy.
Based on these essential metrics,Unique's sales forecasting tool generates the Deal Score that can serve as a reliable source for revenue predictions and help you win your deal in real time.

In Conclusion…
… the accuracy of the revenue forecast is as good as gold for any business. And any sales leader should be able to devise smart strategies that will facilitate the process of forecasting. That's where sales automation can really help you a lot.
Start using Unique today, and forget about inaccurate forecasts forever!