How to avoid getting caught in a storm? You just check the forecast to know exactly what to expect.
With this simple formula in mind, Unique manages to solve every sales leader's biggest headache: pipeline's unpredictability.
In a world where every day brings new unpredictable challenges, being able to anticipate them and stay ahead of the competition is extremely important.
What's more, in the current economic environment, it's crucial to track essential business metrics that will give you a clear picture of the current pipeline.
So Unique had to come up with a multifaceted solution that not only helps salespeople achieve their goals and bring home more clients but also aids CEOs and sales leaders in building reliable revenue forecasts.
Get Predictable Forecasts with Unique
To make sure that sales leaders can predict exactly which deal will come through and what to expect in the end of the quarter, Unique created a "Cockpit" dashboard that shows you every relevant deal metric.
Cockpit: All Open Deals
There you'll find an overview of every deal in the current pipeline and such metrics as:
Deal Size


Deal Stage (first meeting booked, qualified, sales-accepted, diagnosis, proposal, negotiation, closed won, closed lost)


Forecast Category:
omitted

– the deal needs more work, and it's omitted from the current forecast

pipeline

– the deal is one of these stages: first meeting booked, sales-accepted, diagnosis, qualified.

best case

– you have gone though all important stages, the buyer is easer to purchase your product, but the deal needs a verbal commit to go to the next stage.
commit

– you have agreed on a verbal commitment with the buyer.
Q Score: the probability (in %) with which the deal will close by the due date. The score is built based on the methodology that you use to evaluate every stage in your sales cycle. According to your methodology, the system will recognise the optimal next steps as well as roadblocks preventing you from moving forward.


Deal fluctuation in the last 14 days


Last touch


Closing date agreed on
Deal Page
Inside the deal page, you'll get your hands on even more relevant deal metrics like:
Next meeting (date)


Next steps (Unique will show you if you forgot to agree on the next steps with the client)


Client page views (it helps you gauge the buyer's interest)


Meeting recordings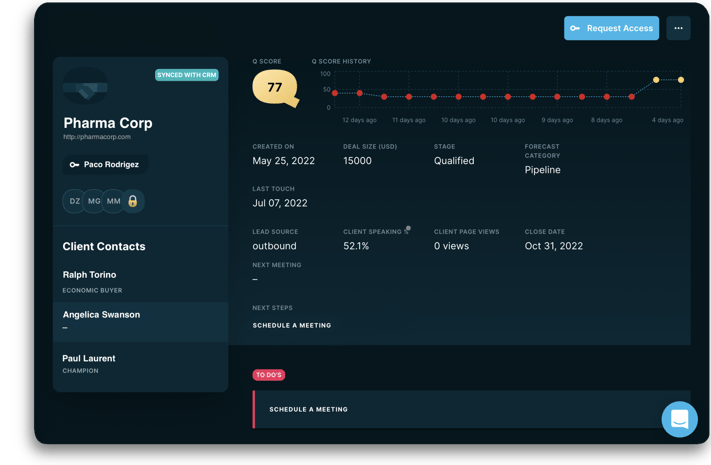 With these functionalities at your disposal, you will always know what the future holds for you and what deal is set to close by the end of the quarter.
No more exercising in guesswork. With Unique, you get clear answers to all your business questions.
Results Won't Keep You Waiting
According to the Gartner report, by 2025, 75% of B2B sales organizations are set to augment traditional sales with AI-guided selling solutions.
This means that sales intelligence will soon become indispensable in tackling sales-related and even business-related challenges.
With sales intelligence and sales automation your team has better visibility of their deals, guidance on calls, self-coaching, and less workload.
On top of that, sales leaders and CEOs get a full overview of the current state of every deal as well as all metrics that will help them close the revenue gap.
Updated on 13.09.22