Over the years, Sales development has become an increasingly technology-driven function. Now, it's not just about cold calling and following the script, it's more about data-driven decision-making and building long-lasting relationships with a potential buyer.
With the development of AI and machine learning, the data gathered during client conversations can now help salespeople uncover valuable insights into each client and bring them further in the funnel.
Sales intelligence software allows salespeople not only to apply a data-driven approach when working with clients but also to learn and train based on the best techniques without supervision. It also adds to a much faster onboarding process and allows reps to unleash their full potential in a short span of time.
Sales Intelligence Features & Benefits
So what features of sales intelligence software can help achieve all the results mentioned above? Let's sort it out.
Call Recordings
When choosing the optimal tech stack for their reps, most sales leaders pick cold-calling and email prospecting software and don't look any further. However, as good as those platforms are, they cannot cover all the use cases for sales reps. For instance, advanced sales intelligence tools can offer you a range of additional features, and Call Recordings is one of them.
Recording discovery and demo calls can bring tons of benefits to the table. To start with, saving and documenting these recordings adds to faster preparation for the next call. Additionally, these calls can be used as coaching material or even shared with prospects to agree on certain important topics in call follow-ups.
CRM automation
Every salesperson dreads filling out their CRM. In fact, salespeople spend just about 30% of their day actually doing their main job – talking to prospects. The rest is dedicated to writing emails, entering data, prospecting and researching leads, and internal meetings. Sales intelligence software can automate a number of tasks. For instance, CRM automation is one of the features that can help salespeople save lots of time and focus on revenue-generating activities such as building relationships with prospective buyers.
Insights
AI-driven technology can also extract useful insights from every conversation and notify the rep when they need to decrease their speaking time and involve the prospect more. Also, it can show the overall sentiments during the call and detect topics mentioned in the conversation. Based on this information, reps get better prepared for the next meetings.
Onboarding
On average, newly hired sales reps spend around 10 weeks in training and only become productive after 11 months. This problem is even more pronounced for startups and scale-ups, where every win counts and there's no structured onboarding practice in place.
Sales Intelligence platforms can solve this problem. Sales leaders can create a library with special virtual "rooms" filled with videos on the most valuable topics for new hires:
Founding story
Product demo
Use cases explanation
1:1 rooms (between SDR & Team Leader or/and SDR & AE)
Tech stack introduction videos
New joiner videos: short videos of all employees presenting themselves
Pitching: internal pitch contests
Objection Handling
Best & worst Cold calls
Best & worst Discovery calls
Workshops, etc.
Every time an SDR or AE records their conversation, the recording gets transferred to the app where it can later be reviewed and used for coaching and onboarding.
Unique for SDRs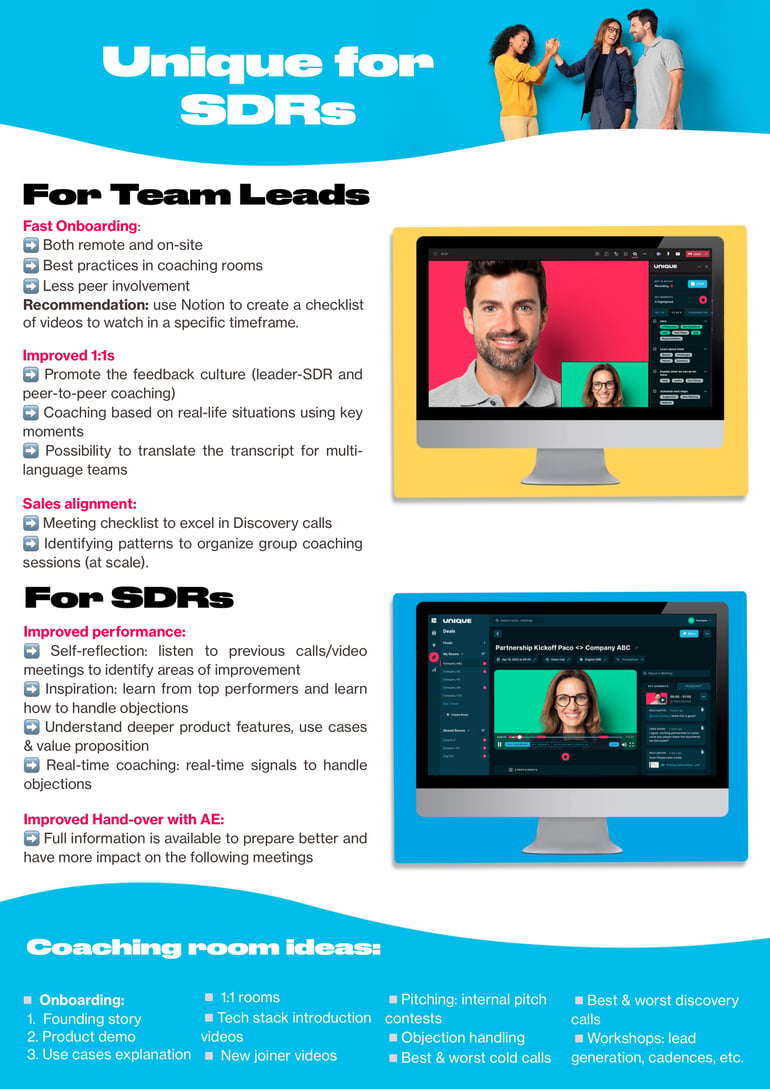 Unique is an AI-based solution that records, transcribes, and analyzes sales conversations to extract important insights and coach sales reps on the most optimal ways to conduct client meetings.
Unique stores every call recording inside the app where you can transfer them to so-called rooms: Deals or Coaching.
In Deal rooms, you see an overview of all client accounts and current deals in the pipeline. There, you also have a Q-score that scores your deal based on the probability of it closing by the due date.
In Coaching rooms, you can watch videos recorded by sales leaders and colleagues and learn the best selling techniques and practices.
The Unique sales intelligence platform is here to help every salesperson unleash their potential and improve seller-buyer interactions.