An average onboarding program for new reps is likely to be intense during the first few days and even weeks. Sales reps usually get plenty of hands-on coaching with their leaders, managers, and trainers. They learn step-by-step and get gradually integrated into the workflow.
Now, these first couple of days or weeks can be pretty hectic for both sales reps and their managers. Finding ways to present the information required for successful onboarding can be tricky, and if the process is not set up correctly, new joiners may feel overwhelmed.
So, the question is – how to optimize and speed up the process? What are the benefits of having a structured strategy, and how can onboarding help to keep salespeople motivated and excited about performing their best?
Let's break it down, shall we?
The Benefits of a Proper Onboarding Process
Have a quick look at some statistics from BambooHR that will help you better understand the idea around benefits of a proper onboarding process:

• On average, employees who have undergone an effective onboarding program are 18 times more likely to feel committed to their organization.

• 89% of new hires who received strong onboarding feel more integrated into the company culture.

These numbers speak for themselves, as they give you a clear idea of the impact a successful sales onboarding can have on your team's productivity.

Additionally, you can observe an increase in employee loyalty level, job satisfaction, engagement, drive, and eagerness to score better results.
What to Expect from an Effective Sales Ramp-Up Program?
A proper onboarding program helps a sales professional get acclimated to their organization and the sales process while reducing the risks of failure and burnout.
Additionally, new joiners get the chance to learn more about the company culture and processes within an organization.
Ideally, these ramp-up sessions allow sales hires to grow as individual professionals while being guided and assisted along the way. After all, productive sellers should be autonomous enough to bring positive results without extensive supervision.
Steps to Improve Sales Onboarding Experience
If you think that the existing onboarding plan in your company needs some adjustments and improvements, or you don't have any strategy yet, try following these easy steps.
1. Create a standardized onboarding program for sales representatives
Generally speaking, the sales onboarding program is not a one-day process. Depending on particular circumstances and the preparedness level of sales hires, it can last up to 6 months or even a year! However, after the first few weeks, onboarding takes a slightly different direction and is mostly focused on resolving individual problems and struggles.

Again, the better the process is organized, the sooner you can expect to see the first positive results. That's why creating a standardized sales training program is key to continuous and smooth employee integration.

In order to form a holistic view of the topic and get a clear idea of what to expect, you need first to outline a couple of onboarding objectives. To begin with, ask yourself a few questions:

• Are there any specific actions a new hire must complete during the first week?
• Are there any training courses that we can either use as an example or create ourselves?
• What goals do sales hires need to reach in the first quarter?
---
Some pro tips:
1. To optimize and simplify onboarding processes, use an onboarding checklist. It should contain tangible goals and specific periods of time allocated for the completion of these goals.
2. In the early days, organize 1:1 meetings for new joiners and sales leaders as well as managers from other departments within your company. This way, a sales rep will feel included and stay informed about essential processes.
3. Make sure sales hires have access to and can track crucial data that reflects their performance. Create dashboards with charts for every employee.
4. Contextualize and personalize the onboarding process based on individual data.
---
2. Outline Expectations and Provide Training and Support
To ensure that your salespeople positively impact your bottom line, you need to define the meaning of the word "success" for them. Sales leaders must establish and communicate expectations and goals early on and then enforce them continually.

Besides, if you want your employees to achieve their objectives, you must provide them with the knowledge and resources they require to succeed. For that reason, a special training program that gives them access to all necessary tools and learning materials is absolutely a must.
3. Create a Library with Useful Materials
That said, product training is one of the crucial steps in an employee onboarding process. And for it to run smoothly, you need a library that will contain essential learning materials:
• A "sales playbook" that will include sales best practices that your reps could learn from.

• Product descriptions with helpful info about the company product and its features.

• An employee handbook, containing rules of conduct and special guidelines for sales reps.
4. Make Use of Technological Solutions to Get New Salespeople Up to Speed
In a world where remote work is not only common but even preferable for B2B and SaaS companies, a new demand for software has appeared. And since creative minds are constantly looking for ways to meet the market demand and create something truly disruptive, it's no surprise you can come across various platforms that help optimize the ramp-up process.

Virtual onboarding for sales teams is no longer a question of preference. It's a necessity for many B2B companies that operate between several locations. Luckily, there's software that can accelerate and facilitate the virtual training process.
Unique, for instance, leverages AI to record, analyze, and transcribe sales conversations in multiple languages to deliver real-time insights and coaching to sales teams. You can use it as an add-on to your favorite video conferencing tools such as Microsoft Teams and Zoom.

With the help of Unique, you can create an entire library with useful coaching materials that will add to a better understanding of the processes within your organization and provide you with practical insights and tips.
The array of the app's features includes (but is not limited to):

• coaching rooms => new (and existing) employees can watch examples of sales calls recorded and uploaded by their colleagues. Coaching rooms allow for sharing best practices to ensure a steeper learning curve for new joiners.

• meeting structure => it allows employees to follow a specific agenda that covers important negotiation and conversation topics during a sales call. Additionally, sales leaders know that the team follows the same agenda and everything goes according to a plan.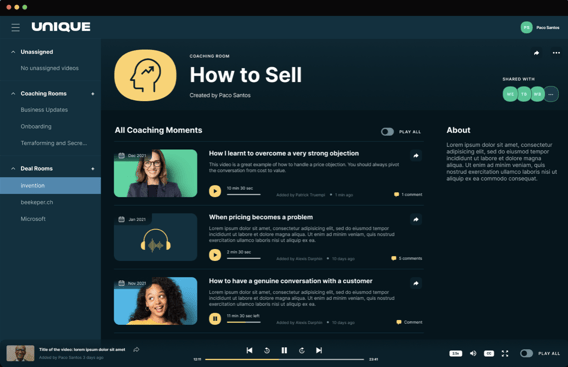 These software capabilities become especially useful for the onboarding process. A trainee gets a plethora of practical guidelines from more experienced colleagues who share records from their client conversations and negotiations.

If you want to know more about Unique software and integration capabilities, contact us!
Conclusion
A robust sales onboarding process can significantly improve employee performance. It provides multiple benefits for businesses: from increased employee loyalty and retention rates to a morale boost.
However, coming up with the entire onboarding strategy can be time-consuming. Managers need to spend hours and hours preparing a comprehensive library with valuable materials. That's why leveraging AI-driven software can turn out to be a lifesaver. With its help, you'll be able to allocate your precious time to business objectives that really matter, and your sales team will have an extensive library to use and learn from.