Last Friday marked a notable occasion for our team at Unique, as we held our first strategic advisory leader board meeting with two of our clients, Pictet and LGT. The meeting centered around exploring how we can improve the daily operations of client advisors and relationship managers by utilizing our Unique AI Platform and the Microsoft Azure OpenAI GPT-3 Service. Our objective was to provide more time to these professionals so that they can focus on delivering better service to their clients.
«At Pictet, we're always looking for innovative solutions to improve our clients' experience. We've had the opportunity to conduct a proof of concept with Unique's GPT-powered solution, and we're impressed by its ability to streamline our operations through automated reports generated after client conversations. This can significantly reduce administrative work, freeing up our client advisors to spend more time with their clients. Unique's platform has the potential to revolutionize the way financial advisors and relation manager interact with their clients, making it easier to provide personalized advice and recommendations in a secure and compliant way» Christian Janson, Head of COO Office at Pictet.

One of the most significant discussions we had during the meeting was the prioritization of upcoming features. Our clients played a crucial role in the decision-making process, and they shared valuable insights and feedback on how we can improve our platform to meet their needs. We aimed to make the discussion process more interactive and fun, so we even asked them where they would invest their money in a Monopoly game with Unique features. Their responses were insightful, and it gave us more context to determine which features should be prioritized.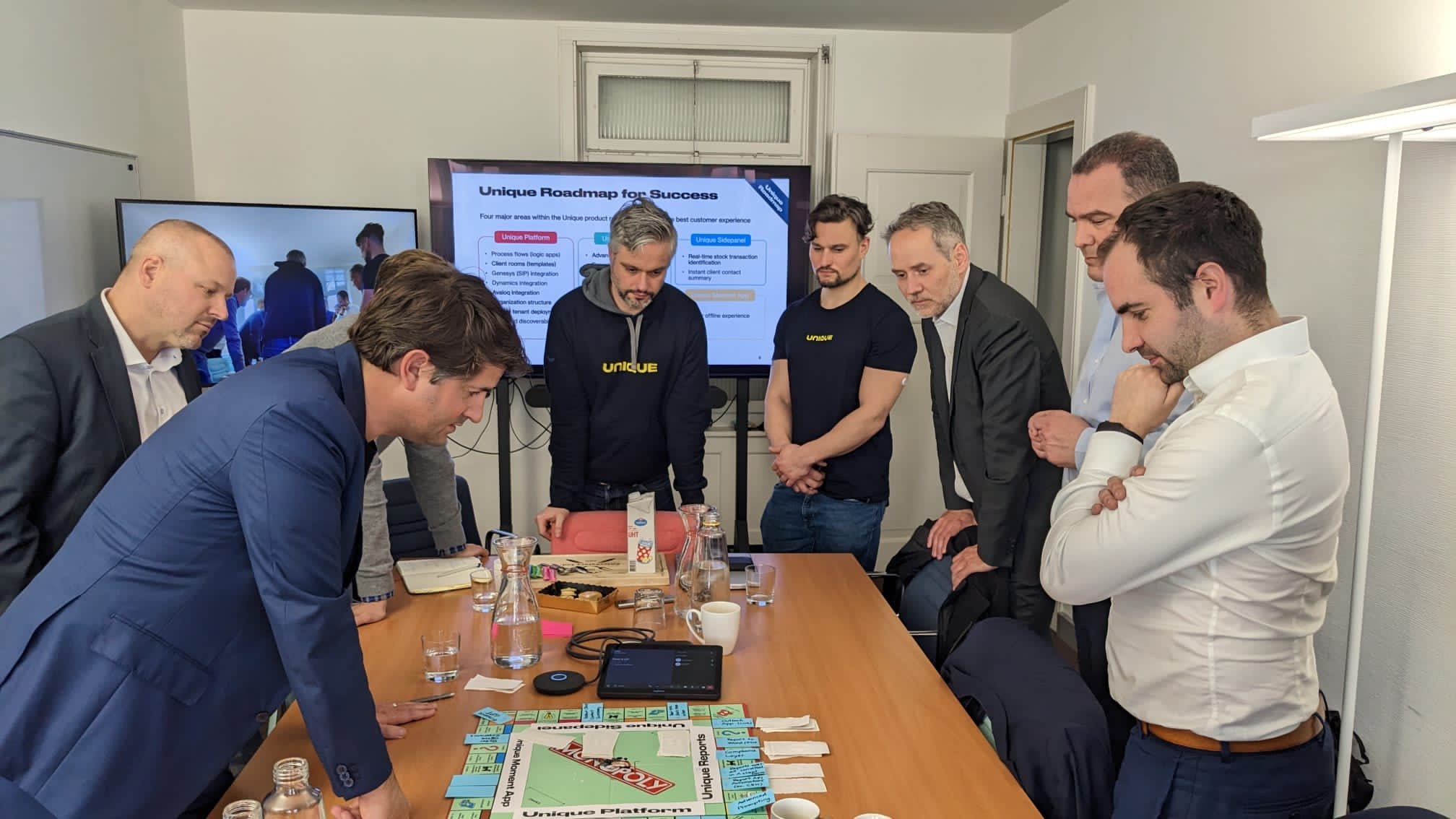 Another highlight of the meeting was the conversation on how to use OpenAI ChatGPT securely in the financial services industry. Our clients were intrigued by the technology's potential to enhance customer experience, but they also raised valid concerns about security and privacy. As a team, we were able to define a clear vision on how to implement a Finance GPT in a safe and secure manner. We discussed the best practices for handling sensitive information and how we could ensure that our platform is compliant with industry regulations.

We are honored to work with such innovative and forward-thinking clients like Pictet and LGT. Their involvement and feedback have been instrumental in shaping our platform, and they have helped us to better understand the financial industry's needs. We appreciate their continued support, and we are excited about our future collaborations.

Our Unique AI Platform and the Microsoft Azure OpenAI GPT-3 Service are powerful tools that can transform the way client advisors and relationship managers work. By automating repetitive tasks, these professionals can focus on building strong relationships with their clients and providing personalized solutions. Our platform's predictive capabilities can help them identify potential issues before they arise, giving them more time to address these concerns proactively.

At Unique, we are committed to developing solutions that are not only innovative but also secure and compliant with industry regulations. We understand the importance of protecting sensitive information and maintaining the trust of our clients. That's why we take the necessary steps to ensure that our platform meets the highest standards of security and privacy.

Indeed, our first strategic advisory leader board meeting with Pictet and LGT was an absolute success. The meeting allowed us to collaborate with our clients and develop a shared vision for the future of our platform. We appreciate their active involvement and valuable feedback, and we are excited to continue working with them to deliver exceptional solutions that transform the financial services industry.