How to focus all your attention on building long-lasting relationships with clients instead of completing admin tasks half of the time?
How to make revenue forecasts more reliable and gather all crucial data in your CRM without extra effort?
How to make sure sales teams follow a structured call agenda and all parties involved in a deal have access to all conversational data and metrics at all times?
Unique has all the answers!
Steps to Automate your Sales Process With Unique
Step #1: Get the Unique License.
Reach out to our Unique experts and get Unique licenses for yourself and your sales team.
Step #2: Go to the Unique app.
Go to the Unique app to explore features, change settings, watch video recordings, manage your own recordings, and much more.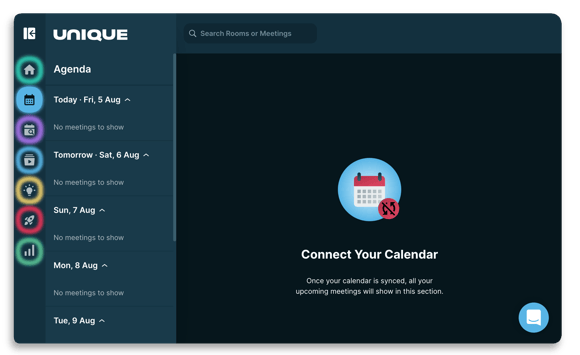 The list of Unique app rooms includes:
HomeHere you can see and complete your to-do's (enter close dates, discuss pricing, next steps), and review your team's meetings on Unique.
Agenda
Once you integrate your calendar with Unique, you will be able to review all your upcoming meetings.
All Meetings
In this room, you have access to your team's scheduled meetings overview.
Recordings
Here, you see all your call recordings that you can review or assign to Coaching or Deal Rooms.
Coaching
Here, team members can upload and review different types of recordings for faster onboarding and continuous learning.
Deals
In Deal Rooms, you have access to all current deals and video recordings assigned to these deals. What's more, it contains a tab called Cockpit, where you have access to all deal metrics including the Deal Score.
Insights
In the Insights room, you have access to such metrics as won deals in %, customer engagement in %, deals lost in %, number of calls, etc.
Step #3: CRM Integration
The next step in your Unique journey is to integrate the app with your CRM. That's how Unique will be able to transfer data to your CRM, and that's where it will take important metrics to create a Deal Score.
Step #4: Tech Stack Integration
You can pair Unique with your preferred video conferencing tool: Google Meet, Zoom, or Microsoft Teams using one of three available options:
Microsoft Teams: the Unique plugin is available directly in the app, and you can invite the bot by clicking on the Unique button in the navigation panel.
Zoom: the side panel for Zoom is available after downloading the Unique native app for both Apple Mac and Windows devices. The bot joins your call after you paste the Zoom meeting link into Unique.
Google Meet: the Unique bot joins your call in Google Meets via the browser extension. After you install the Unique browser extension, you can click on it when on the Google Meet page, and it will join the call shortly.
Step #5: Start the recording
Starting to use the Unique bot is easy. You go to the app/extension/plugin, choose the language of the call, choose the type of the meeting (optional) and start the recording.
The side panel has a couple of useful sections, including transcript, smart call agenda, and key moments.
With the help of artificial intelligence, the Unique sales tool is capable of detecting speech cues and marking them on your agenda.
Additionally, Unique recognizes each participant and provides you with a user-friendly and comprehensive transcript.
What's more, whenever an important topic comes up, you can mark it as a special moment in the conversation, and Unique will remember these marks and highlight them in the recording.
Step #6: Discover Unique Key Features
CRM Integration
All salespeople across various industries and dedicated niches have a LOT on their plate at all times. And Unique knows that.
We also know how important human interactions are and how crucial it is to capture every moment in a customer conversation: from body language to sentiments expressed on a call.
That's why Unique strives to decrease the workload for salespeople and make their lives as easy as possible.
By capturing every instant of the call, Unique analyses the conversation, captures key moments and important data (like the size of a deal, competitors, etc.), and transfers it to your CRM.
As a result, you have 100% of conversational data logged into your CRM, which means you can easily access, aggregate, and analyze every important bit of information.

Call Summary
One of the features that you are going to love is the call summary. After each call, the Unique sales tool recaps the most essential bits of the conversation.
With the help of this feature, you receive a short summary that provides you with all the key characteristics of the call.

Signals
Signals pop up in your side panel in real-time, triggered by some key phrases or words that you should or shouldn't use.
For example, it will remind you not to use the word "hope" while talking to a client. You can create, change, and expand the list of words and phrases according to your preferences.

Topics
Unique leverages AI to detect various topics, with the help of which you can classify the subsections of your call. They are used to create call insights.

Deal Score
Unique Deal Score helps you monitor the health of each deal and transaction you have in your pipeline. It will show you whether the deal is likely to close by the due date set in the app or your CRM.
Unique Deal Score is extremely informative and actionable and highlights the most important deal metrics.
With the help of Deal Score, you can predict your forecasts, and consequently, close your revenue gap.

Coaching & Onboarding
Unique sales tool allows you to access recordings for both business and coaching purposes.
In the deal room, you have access to all recordings associated with deals and transactions in your pipeline.
In the coaching room, you can assign the calls that you consider of great learning value for your colleagues. For instance, you can create a room called "Great Sales Pitches" and upload videos where you think you aced your sales pitch. Or "Not-so-Good Demo Moments," where you can share your unsuccessful demo calls and ask for your colleagues' opinions on the matter.
The possibilities with coaching rooms are boundless. But the most important part is that you can share your knowledge and learn.
Coaching rooms also add to a much faster sales onboarding. New hires can learn from more experienced colleagues and soak in the knowledge quickly and effortlessly.

Step #7: Measure Your Results
Unique is made in close collaboration with experienced sales professionals to serve sales professionals.
We strive to make salespeople's lives easier by creating working conditions that promote creativity, customer-centricity, growth, and collaboration.
For Sales Teams:
Unique helps you focus on what really matters and gives you insights into how to improve customer interactions. Our sales tool leverages AI to record and analyze sales conversations in over 12 languages, which adds to your decision-making, helps you win more deals, and build long-lasting customer partnerships.
For Sales Leaders:
Unique automates the entire sales process for you and your team. By integrating with your CRM and accessing your call recordings, Unique gathers all essential data needed to create reliable revenue forecasts and close the revenue gap. In addition, Unique significantly reduces the time needed to train salespeople, which leads to an improvement in the team's performance.
For Customers:
Unique captures key moments in every call that are securely shared in a "Deal Room," one place that buyers can refer back to and share for a more transparent, seamless buying experience.
---
With these features available at your fingertips, you can see the positive impact on your business right away. All you have left to do is reap the benefits and start boosting your revenue!